Epping & Ongar Railway Beer & cider festival
Sunday 23rd July @ 8:00 am

to

5:00 pm
A leisurely Sunday including enjoying Andrew's transport choir.
Andrew says:
I will be aiming to catch the 8.54 train to London Bridge from East Croydon.   Do join me if you like.  I'll try to be in ticket hall from 8.45am.  Trains are running albeit with possible knock on disruption from the previous day's amended timetable. You can travel later, just read the information below to complete your journey.
I will then aim to travel to Epping underground station in time to catch the (heritage) bus connection (included in event ticket booked at: https://www.eorailway.co.uk/events/real-ale-festival/ ) to North Weald station where the EOR heritage railway main hub is.  Bus scheduled to depart Epping station at 10:25.  (If Central Line is messed up by strike action, an alternative is Elizabeth Line to Shenfield.)
The heritage bus connections (between Epping underground station or Shenfield NR station and North Weald on the EOR (plus some intermediate stops)) timetable is shown below.  (The yellow is recommended buses for choir.)  But note there are two earlier buses from Epping, shown in the full bus timetable here: https://www.eorailway.co.uk/_img/pics/pdf_1689026521-682.pdf, that's 9.40 and 10.25.
Once at North Weald, you can join the Epping Ongar Railway and visit the main beer and cider festival marquee.  Suggest you buy your event ticket first here: https://www.eorailway.co.uk/events/real-ale-festival/ .
The choir sing at North Weald station 11.30 to 11.55; then Ongar station 12.55 to 13.30.  (And we travel on the 12:00 train from North Weald to Ongar and the 13:35 train from Ongar to North Weald when we stop singing and can drink beer.  We may even be singing on those trains.)
Beer is also served on the trains, see details on the train timetable below.
Myth busting – my understanding is the Epping Ongar Railway is a heritage line and runs between its Epping Forest and Ongar stations.  With North Weald in between and which is the main hub of the railway.  It does not run into Epping underground station.  A connecting bus is included in the EOR ticket.  I believe it's not far to walk from Epping underground station to Epping Forest station on the EOR line.  William or Barry will be able to provide exhaustive details.  The line was once part of the Underground network until the 80's I believe.  The is a long term aspiration to run EOR trains into Epping Underground station.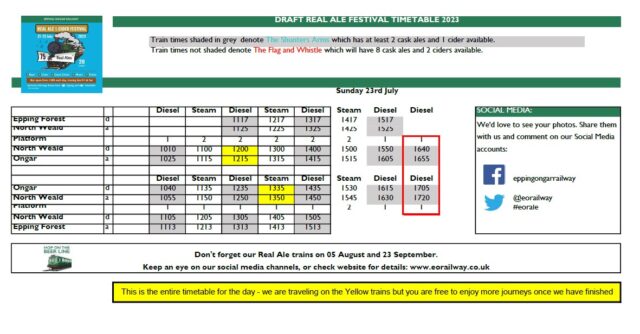 Have fun.
Andrew