I achieved a "first" this year. I returned to Edenbridge with only my toes slightly damp! Normally my feet are soaked through within a mile or two of the start.
However some things never change; looks like I will lose about 4 toe nails. They've only just grown back from last year!
This year the weather was kind to us, predominately dry but with two or three spells of drizzle. We even managed a couple of spells of sun to show off the superb autumnal colours!
It was another healthy year for entries. Overall we were one entry short of our record year (2011) with 328 entries split over the three routes. 176 opted for the long route, 55 for the middle route and 97 for the short route (a record).
Last year the 50km results could only boast a single Personal Best. This year 12 men and 2 women achieved Personal Best times.
Looking at the Gatistics, this was one of the easier years for the 50km route. It was ranked 27th* or the 18th** hardest in the last 30 years (depending on the indicator use).
Congratulations to the front runners of each event;
20km Catherine Sowerby 2:40 & Richard Bushell 1:58
35km Natalie Gibbons 3:25 & Mike Cotterill 3:25
50km Edwina Sutton 6:13 & Keith Macintosh 4:32
Keith Macintosh broke the event record time! He has surpassed the previous best event time of 4:35 established in 1991 by David Wakeling, Chris Boakes and Peter Tremain.
2nd placed Saxon Bowes-Crick also deserves a mention and congratulations with the 3rd best time ever of 4:39.
The standard seems to continually rise! The 35km & 50km routes headed south this year, the 50km route reaching the scenic 500 Acre Wood of Pooh fame.
Another COPSE member clocked up their 10th completion of the 50km route in 10 hours or under to join the 500km+ club. Wendy Spear (pictured) covered the 500km in a total of 78 hrs & 22 mins.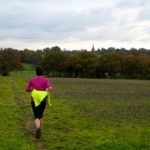 Wendy completed her first Gatliff in 1985 and has been the fastest woman on two occasions; 1987 & 1989. She is the third woman to complete 10 or more completions in the time limit.
Jill Green & Shirley Hume being the other two. (See Number of Completions later)
There are now 44 people that have achieved 10 or more 50km Gatliffs to date, 12 of which have done over 20.
Nobody has completed all of the 30 events within the ten hours but three remain one
short of the complete set;
David Wakeling
Jeff Campbell
Martyn Greaves
Being the Thirtieth event it's probably worth mentioning how this all started and why the marathon is called the GATLIFF.
Herbert Gatliff (1897 – 1977) was an eccentric character and a founder member of Croydon YHA Group which started in 1934.
In 1961 he set up a trust that supports some amazing Youth Hostels in the Outer Hebrides. If you ever get the chance to go the Outer Hebrides then make sure you spend a night or two in one of the Gatliff Hostels which are still running today.
In 1984 Croydon YHA Group wanted to celebrate its 50th anniversary and it was decided to hold a 50km Marathon – one kilometre for each year. (I suppose it ought to be an 80km event by now!) We scratched our heads for a while trying to come up with a name. Then someone suggested we should name it The Gatliff to honour the man who had done so much to encourage people to experience the outdoors.
We only ever intended to hold one event! Here we are 30 years later with many of the original members still helping out and the current membership still showing the same enthusiasm for the event.
A big thank you for supporting us all these years – entrants and marshals!
If you are interested in learning more about Herbert Gatliff's life or the Hostels he set up take a look at; www.gatliff.org.uk.
Tim Styles, Gatliff Entries Secretary