Shelterbox Auction
Tuesday 3rd January @ 8:30 pm

to

10:00 pm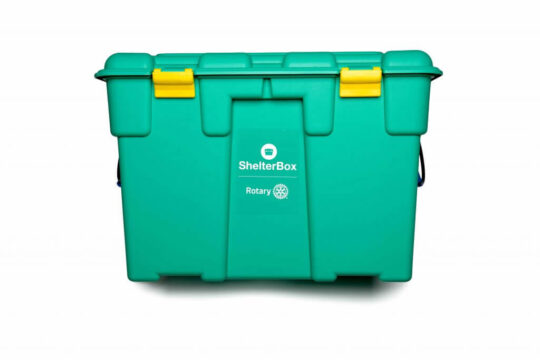 Usually involving a few laughs, we spend our first Club Night of the New Year setting out to raise whatever funds we can for our Club charity, "ShelterBox". (Another moment of fame, via the photos below, for "Tiger Tim" and "Camisole Chris"!) Each year, we have managed to send a good sum of ££s to aid those who need a specific help that is appropriate to COPSE and the "outdoor" part of our title.
For our newer members, I offer the simple statement that our longer-standing members are familiar with: many in our Club enjoy warm-season camping for leisure and pleasure. ShelterBox provides survival equipment for those who might need to camp simply to stay alive – sometimes in very challenging conditions.
To raise the ££s, you good folk donate unwanted Xmas pressies or other surplus items to be generously bid for and given new, loving homes by others attending the evening. Our fundraising takes the form of a "Mystery Auction", with COPSErs taking a gamble on receiving a useful or attractive prize, as they try to outbid fellow members. All gifts are pre-wrapped and the contents unknown.
If you have not been able to pre-wrap, there will be some paper at the hall that can be used but please arrive especially early, if you need to do this.
Understandably, many Club members make individual decisions throughout any year about their personal donations to different charities. For this annual Club effort, click on the green box above for fuller info on how that big green box assists those in dire straits or check via this link
The following is also a reminder of why COPSE has continued to help:
"Everyone deserves a place to call home. It is a human right and the first step towards recovery after disaster.
Shelter is so much more than just a roof. It's the foundation for life, families and communities. It is a place to feel safe after days or weeks of fear. It offers protection from harsh weather, privacy, and helps to preserve dignity. It's a space to heal from trauma. Recovery doesn't happen overnight but a dry and warm place to sleep, prepare meals and be with your family is the vital first step."
Please remember to bring your bulging wallets or purses – although I.O.U.s will be accepted! (Of course, cash donations also welcomed from any people unable to come along.)